Going Walkabout - From Broken Hill to Flinders Ranges
Leaving Broken Hill. Curvature of the earth, I can't see any curvature, sayeth the engineer

Picnic lunch at the reservoir not looking too promising
| | |
| --- | --- |
| Umberumberka Reservoir Wow, there it is with water and a bonus flock of White Corellas | |
We saw our first free range emu and a mob of big reds on the move while driving to our next walkabout in the Flinders Ranges

Australian Trivia: Q) Why do the Emu and Kangaroo feature on the Australian Coat of Arms? A) because neither walk backwards and neither will Australia
| | |
| --- | --- |
| Home home on the range where the emu and kangaroo roam | |
Wilpena Pound - Natures Amphitheatre

With only one day to hike in the Ranges we choose to come here. At the visitor center the ladies raised their eyebrows when Tony selected the 4 hour, 5.6 km hike up Mt. Ohlssen Bagge with a #4 degree of difficulty. He assured them "she's a game old bird, she will make it", We headed out in 35 degree heat and unrelenting sun. Some days I wish someone would just shoot the "old bird" but not this day

We left the visitor center, crossed the creek and started tackling the chunks of red rock up to and around the pounds 'battlements'. We got our first view into the Pound via a 'ladder' very thoughtfully provided by Mother Nature. A short climb later and we were on top of the magnificent steeply sloping rim

It was quite a scramble but I really enjoyed it, and the view from up there is spectacular. I am probably fitter now than at any other time in my life. How sad is that?
| | |
| --- | --- |
| Going Up | |
| | |
| --- | --- |
| | Almost There - we hope |
Sitting On Top Of The World, with just lizards (and me) for company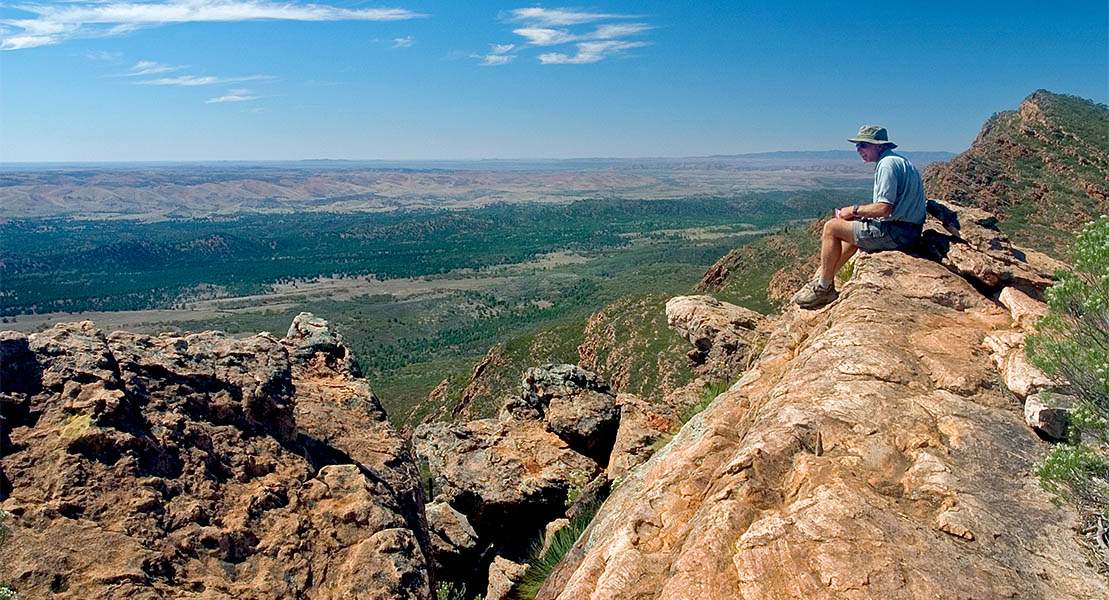 The word pound goes back to England in the middle ages. It's an enclosure, usually of stone in which to detain stray animals, hence the modern term dog pound. When geologists use the term they are referring to rock formations forming enclosures on a grand scale. The floor of the pound, all 17 km in length and 8km in width being comprised of softer rock, eroded creating what we see today
Was it a volcanic eruption, was it a meteor strike which gave us Wilpena Pound? No just 500 million years worth of sediments being compressed and folded into a mountain range or in this case two ranges. Now if you ask an indigenous person you will get a much more satisfying story of two snakes eating people attending a ceremony, they over indulged and died, their bodies became the mountains with St. Mary's Peak becoming the head of the female and Beatrice Hill the male
Time to head down, as is often the case the descent was more taxing than the ascent, the salt flats of Lake Torrens were visible through the gap in the pound
Gazing and Grazing and not a one of them walking backwards

With knees like jelly from the descent we took a scenic route back to our campsite for some quality time with a new friend
Beluga

Hawker Caravan Park

We were too late the night before to make it to the National Park campsite so we stayed for two nights in Hawker, an hour away. Although we like to stay in the national parks a private campground is sometimes a better option and we have met some great characters when using the communal kitchens

On our last night and for breakfast before departure we can use their stoves, pans, plates and cutlery leaving us free to pack up our travelling kitchen and make a quick getaway in the morning. As it happened it rained heavily overnight so we were even more glad most of the packing was done and we just had a very soggy outer tent to deal with. Our Australian tent proved to be the perfect choice, it has never let in water and great challenges lay ahead in that regard
The meeter and greeter at the campground was this delightful if inappropriately named maggie. We were told he was named for the black and white whale, so assumed he should have been called Orca. He loved to hang around the campers, whether rolling on the ground to be tickled, keeping you company while you read a magazine or his particular favourite, helping to peg out the laundry. Unfortunately he had a foot fetish, Tony didn't mind having his feet nibbled but if I was sitting at our site it was usually with my feet in a bucket. Owners/management were very nice too
Salt Flats - We are on our way and once again the bits in between don't disappoint

Including the welcome to our lunch stop in Glendambo, a sense of humour must help out here