Click on the underlined places to enter the gallery
Home in the spring of 2006 from a six month trip to Australia with Tony, it didn't take long for my wanderlust to kick in again. I had always wanted to go to the Pushkar Camel Fair in India but was intimidated by the prospect of getting sick. Unfortunately by the time I talked myself into taking a chance, all the small group adventure tours were fully booked for their Pushkar Fair dates. Lots of people in the Internet travel community told me I didn't need a tour and someone on the Lonely Planet Thorn Tree suggested I contact Colonel Singh of The Colonels Camp in Pushkar. He is a wonderful man, he and his wife operate a lovely hotel in Jaipur as well as The Colonels Camp in Pushkar and can arrange cars and drivers and just about anything you might need.
Once I had that sorted out I began putting the rest of my trip together. I would arrive in Delhi so Agra was a must as was Varanasi. The mid section of the trip was to be around Rajasthan, Jaipur, Pushkar, Jodhpur, Jaisalmer, Udaipur then for something completely different, Southern India, Cochin, Kerala, Munnar and Kovalam. A few days in Mumbai because my globetrotting friend Jack said it was his favourite city in the World completed my itinerary. Bharatpur was added on the fly when Fatehpur Sikri near Agra was inaccessible due to Eid celebrations.
With the itinerary decided, I only had to worry about getting sick. Every person I met who had been to India told me they got sick, from a few days of misery to having to be shipped home to a hospital. Panic stations. I remembered reading about pro biotic pills and decided to give them a try. Not knowing what to buy I chose the most expensive I could find that didn't need to be refrigerated. All I can say on the subject is, I didn't get sick for the first time ever on a trip to Asia and I will never travel there again without them, well maybe to Japan but nowhere else.
At some point my friend Fanny from New York began making overtures about coming along for the ride. It was my great good fortune that she decided she would join me in Agra and we had a great time traveling together. In the end I was only alone in India for a week.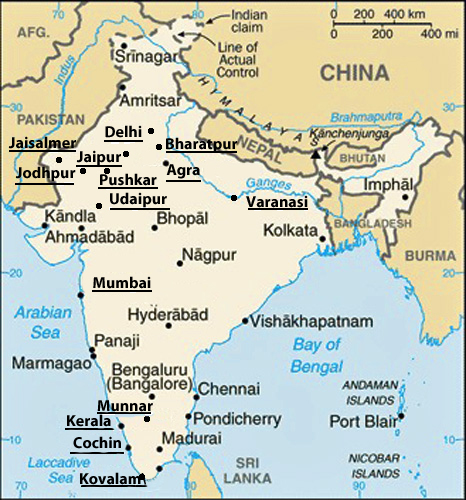 It was easy to plan and to travel around India's main tourist areas. I would love to go back and see some more and maybe even go to the fair again.