Yangon 2002 - 2005- 2007/08
Formerly known as Rangoon, Yangon became the capital in 1885 following the British conquest of Upper Burma and is home to a population of 5 million. In 2005 the custom built city of Nap Pyi Taw became the new capital of Myanmar. Yangon is a gracious if sadly rundown city of wide boulevards, shade trees , and crumbling colonial architecture topped off by the odd satellite dish. It is easy to get around, having been laid out in a grid pattern during British rule. Many streets and buildings were renamed after independence and some still have old and new signage which can be confusing.
It is a safe city with the greatest threat to life and limb being the atrocious state of the usually unlit sidewalk

Riding the old Jitney bus. Is everybody happy, well the driver and conductor certainly are
| | | |
| --- | --- | --- |
| Colonial Tenement | One of many derelict Colonial buildings | Sidewalk Legal Services |
The Pagoda marks the center of Yangon, the central reference point established by the British Raj in Old Rangoon. Forming an island, a roundabout in fact of comparative calm in the center of the city's busiest intersection
| | |
| --- | --- |
| I waited a long time for this quiet moment | 4 bridges allow pedestrians to avoid the busy intersection |
| | |
| --- | --- |
| | As this was Saturday, she was worshiping at the Saturn Planetary Post under the sign of the naga. |

English Conversation. Steps of the Independence Monument (Mahabandoola Gardens
Maha Bandoola Gardens In 2015 Yangon Heritage placed a plaque in the park

It stated it was originally Fytche Square and has been the site of many important moments in the country's history. The foundation stone of the Independence Monument was laid by the Prime Minister on the day of Independence. The park has always been a venue for cultural performance and public gatherings. They failed to mention it is also known as Yangon's Tiananmen Square, having been the scene of much violence in the recent past. Notably the uprisings by monks named the "Saffron Revolutions". The one in the Fall of 2007 threatened to derail my visa application. Fortunately they lifted the visa ban just in time for me to make it to Yangon to take up a three month volunteer teaching position at Growing Together
2007 - Locals were calling this the No People's Desire

Propoganda Street Art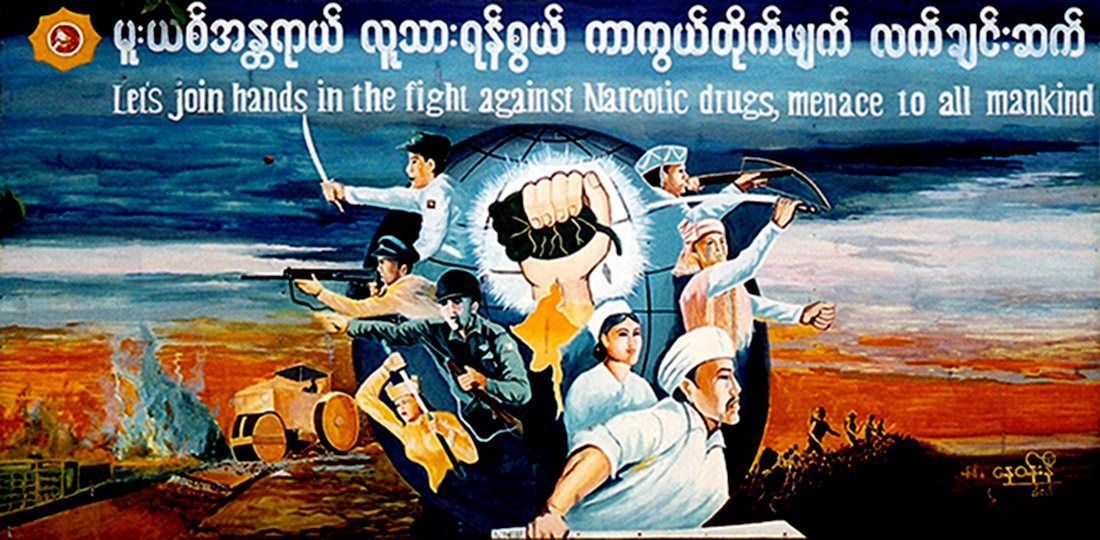 .
Yuzana Garden Hotel

The Yuzana Garden, former Steel Brothers 'chummery', is within walking distance of the Shwedagon Pagoda, Scott Market, Sule Pagoda and the Yangon river. The mansion next door once belonged to the Irrawaddy Flotilla Company and During World War ll became General Aung San's Burma Independence (later Burma Defense) Army Headquarters, General Aung San and Ne Win slept under it's roof. The British Government bought the residence in 1949. Pity we would be leaving before the garden party

In truth the place was a little rundown, in other places a lot rundown, with a shortage of guests and money. It must have been magnificent in it's heyday, the teak flooring in our room was 1.5" thick. I know because some of the pieces were loose. The staff were lovely and a complimentary basket of fruit, tea and 3 in one coffee was awaiting us in our room

We were very happy with out choice of hotel
From the balcony of our junior suite 'Mr. Colin' could keep a watchful eye on

the

residence, gardens, pool and tennis court of the British Ambassador and his family
Yangon is bound on three sides by water. This is the ferry across the Yangon river. We were the only foreign visitors onboard. Maybe the signs saying 'no foreigners' had something to do with that. Someone had kindly pointed out where we could purchase tickets, we produced our passports visa, entry documents etc. , our details were copied out in triplicate and we boarded. Seats cost extra, we could have a kindergarten stool or a deck chair

The upper deck was less crowded and there was entertainment. Apparently he was a Christian preacher 'illustrating' his chosen texts with tricks. I was given an illustrated religious tract in the distinctive Burmese script, I had nor have, any idea what it is about